Australia's star all-rounder Glenn Maxwell's wife Vini Raman, responded with class to hateful direct messages after supporting Australia despite her Indian heritage. Following Australia's historic World Cup victory over India on November 19, Raman took to social media to share her sentiments. 
She elegantly addressed the criticism, emphasising that she may be an Indian but was born and brought up in Australia and also married to an Australian cricketer so she she has many reasons to support the Kangaroos. She asked the trollers to show their outrage towards other important world issues.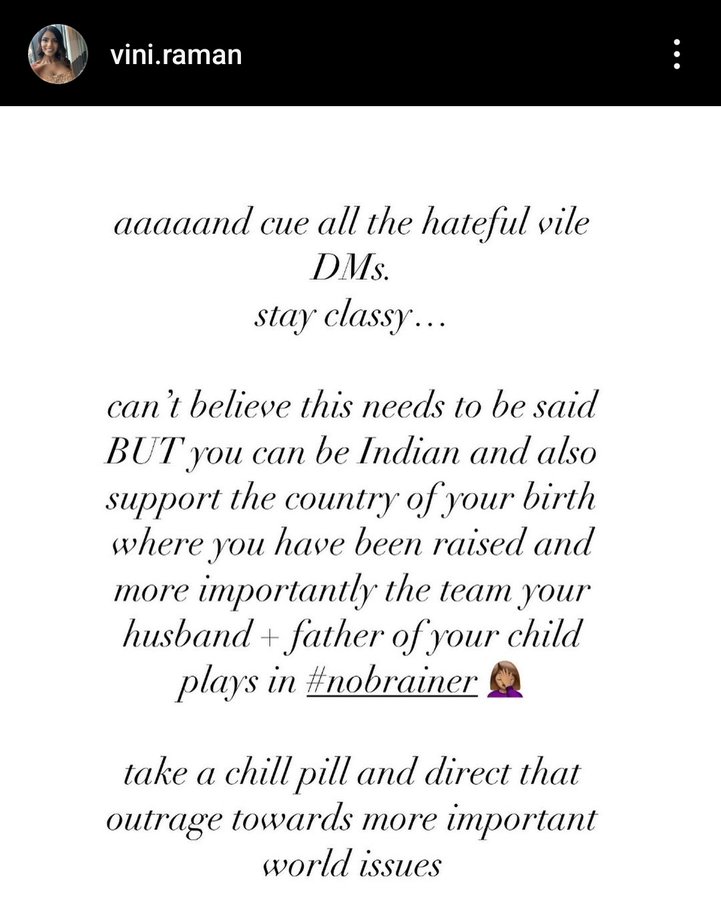 "Can't believe this needs to be said BUT you can be Indian and also support the country of your birth where you have been raised and more importantly the team your husband, father of your child plays in no-brainer. take a chill pill and direct that outrage towards more important world issues," she wrote on Instagram.
Talking about Maxwell, he played an important behind Australia's successful World campaign. He smashed a double hundred during a league-stage match against Afghanistan. He didn't get to bat in the final against India but he contributed enough with the ball. He took the most important wicket as he dismissed Indian skipper Rohit Sharma who was dealing with boundaries in the first innings, 
Poor batting performance by India
Australia opted to bowl first and successfully restricted India to a total of 240 runs in 50 overs. Despite the challenging batting conditions, key contributions from captain Rohit Sharma (47 runs in 31 balls, including four boundaries and three sixes), Virat Kohli (54 runs in 63 balls, with four boundaries), and KL Rahul (66 runs in 107 balls, featuring one four) were pivotal. Mitchell Starc emerged as the standout bowler for Australia, securing 3 wickets for 55 runs. Skipper Pat Cummins (2/34) and Josh Hazlewood (2/60) also delivered impressive performances, while Adam Zampa and Glenn Maxwell each chipped in with a wicket.
In the second innings, India made a strong start, putting Australia in a challenging position at 47/3. However, stellar performances from Travis Head (137 runs in 120 balls, with 15 fours and four sixes) and Marnus Labuschagne (58 runs in 110 balls, with four boundaries) thwarted India's efforts, guiding Australia to a convincing six-wicket victory. Mohammed Shami claimed one wicket, and Jasprit Bumrah took two wickets for India.