Indian cricket team veteran pacer Bhuvneshwar Kumar has been away from Team India for a long time. After India's humiliating defeat in the semi-final of the T20 World Cup last year, the management turned its back on the right-arm fast bowler. Team India's preparation for the upcoming ODI World Cup has already started with the Rohit Sharma-led team currently playing the ODI series in the West Indies.
Meanwhile, big and shocking news related to Bhuvneshwar Kumar is getting surfaced on social media. Actually, a picture is going viral on the internet in which a screenshot of the Indian bowler's Instagram profile can be seen. The fans noted that Bhuvneshwar has removed 'cricketer' from his bio. His bio previously had 'Indina cricketer' however, now it's only, "Indian 🇮🇳 Family First. Pet lover. Casual Gamer".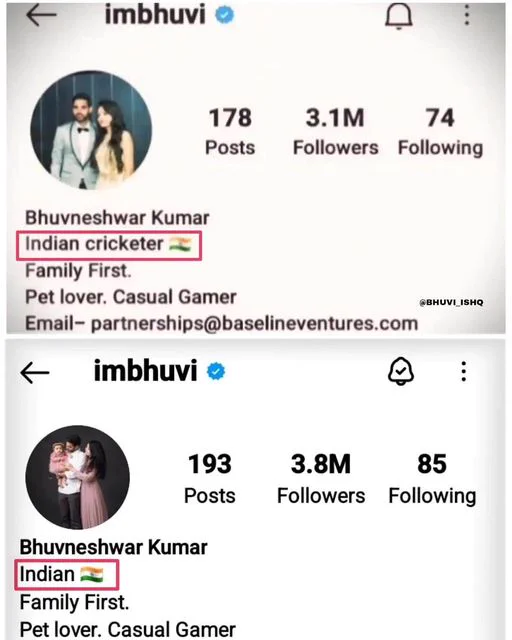 After this, the speculations started that Bhuvneshwar will never be seen playing in Team India again. At the same time, some people have accepted it as his official retirement. However, these are just speculations which are being made by the fans and no official confirmation has been made regarding this yet.
Will Bhuvneshwar get a place in India's squad for ODI World Cup 2023
Despite the brilliant performance in IPL 2023, Bhuvneshwar failed to make it to any format of the game for the national team. He also last appeared in a Test match in 2018. However, if you look at his bowling figures, Bhuvneshwar has taken 141 wickets in 121 ODIs, 90 wickets in 87 T20 Internationals, and 63 wickets in 21 matches with the red ball.
The ouster of 33-year-old Bhuvneshwar means that in the World Cup 2023, the Indian team will have to rely entirely on young fast bowlers. Jasprit Bumrah is currently out due to injury, due to which it is expected that the responsibility of Mohammed Siraj and Mohammed Shami increases.
The Rohit Sharma and Rahul Dravid duo have already started investing in young fast bowlers in the form of Mukesh Kumar, Umran Malik, Arshdeep Singh and Kuldeep Sen. Due to this it also becomes clear that now Bhuvneshwar will probably never be seen playing in Team India's jersey again.